Dew Drops provides medically fragile orphans and children from disadvantaged families with medical assistance, preoperative and postoperative care, and comprehensive support services.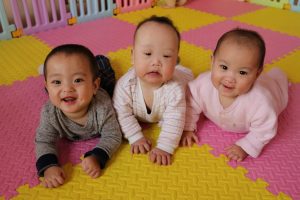 As you are probably aware, the number one reason why children are abandoned in China is due to the difficulties of caring for a child born with complex medical conditions. Often, families lack not only the financial means to provide treatment for their child, but also the medical knowledge to understand treatment options and make good decisions for their child's medical care.  In addition, families face many other social, cultural and logistical challenges in trying to provide for a child born with complex medical needs.  Unfortunately,  parents are often forced to make difficult decisions. This is where Dew Drops can help!
Dew Drops provides both an enriching home environment for abandoned children, and also a temporary home for families in need of support and specialized care, while they navigate the health care system. These families will benefit from financial, emotional and medical support in caring for their child during treatment, as well as ongoing support after they return home.
Dew Drops was established in 2016 and registered as a charity in 2017 by the Beijing Municipal Civil Affairs Bureau. In 2018, we established the "Dew Drops Children Assistance" program with China Charities Aid Foundation for Children.
Dew Drops consists of 2 Sub Projects:
Our Orphan Care Centers provide specialized medical care as well as fosters healthy emotional development for abandoned children:
• Children ages newborn to 13 years old born with complex medical conditions
• Partners with state-run orphanages to provide diagnoses, preoperative and postoperative care and rehabilitation
• Capacity of 60 beds in our long term home in Inner Mongolia
• Every child will stay with us until (s)he is stable
• Employ full time 'moms' who are trained in trauma-informed care practices and who provide continuous, 24 hour care. This helps abandoned children learn to form attachments and heal from the past trauma they have experienced
In our Family Support Center, in addition to specialized care, we also focus on educating families and advocating with them as they seek the best medical treatment for their child.

Children from disadvantaged families (targeting rural areas) born with complex medical conditions
Read our Annual Reports to learn more: