In January 2017, Zhan was found in a "baby hatch" just a few days old. He was quickly diagnosed with TE fistula and esophageal atresia. This means that his esophagus was not connected to his stomach and that there was an abnormal connection between his trachea and esophagus. Both these conditions required immediate intervention. Zhan's home orphanage was able to make arrangements for this emergency surgery when he was found, however in returning to his orphanage post-operatively they did not have the resources or knowledge to properly care for him and ensure his growth and recovery.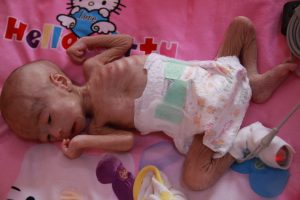 Zhan came in to our program in June 2017, extremely small and malnourished. At almost 5 months old, he weighed less than 5 lbs (2.2 kg). Bottle feeding is very difficult for babies who suffer from TE fistula and most orphanages don't have the resources or knowledge to feed in any other way. Bottle feeding put Zhan at a very high risk for aspiration pneumonia. Below are pictures of when he first arrived.
After coming into our program he was quickly hospitalized and doctors found out he had esophageal stenosis, which was causing his difficulties in eating. From June through November, Zhan spent much of his time in the hospital as new complications arose.
Finally in the middle of November, he was released to our Dew Drops home in Beijing and slowly started to put on weight. Our caregivers were taught how to carefully feed him in sidling position so that there would be a lower risk for aspiration. During this time, Zhan's sweet personality came out and anyone who met him fell in love instantly. His wise eyes and head full of hair make him look so much older than his tiny body suggests.
In January Zhan celebrated his first birthday! Everyone was so excited to be a part of the celebration because his life had been so fragile since his birth. Although he wasn't able to eat too much of his fancy birthday cake, he enjoyed being the king for the day!
Zhan is looking chubbier each day and adores being talked to. He enjoys grabbing his caregivers' fingers and his favorite toy. His immune system is still very weak so even the slightest cold can alter his progress. He goes to the hospital to have his esophagus stretched every three weeks to try to improve the esophageal stenosis. We are also working closely with him on physical therapy as his rough medical journey has left him a bit behind developmentally. We love to watch Zhan's improvements day by day and look forward to his continued progress!