Today is an exciting day for one of the little boys at Dew Drops – Yang will be meeting his forever family today! We are so honored that we could be part of his journey this far and that he now has a family to love and take care of him. We are excited to share with you little Yang's story today.
I have come a long way from being abandoned under a seat on a train to becoming a healthy boy 14 months later. I arrived at Dew Drops in July 2016 as a 4 month old boy diagnosed with a congenital heart defect and pneumonia. I was completely helpless. All I did was cry while my new nannies held me.
I was rushed to the hospital for emergency palliative heart surgery. My post-operative care was very difficult as I had suffered from pneumonia and liver damage. But those around me, never gave up. Although I was weak, the hope that surrounded me, encouraged me to keep fighting!
Even after I was discharged from the hospital, I was still weak. The specialized care I received helped me grow slowly every day.
I learned to lie on my tummy.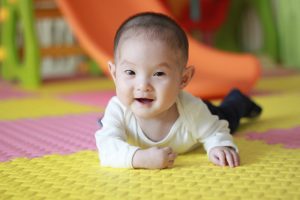 This was the first time I ate a banana!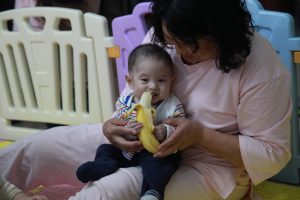 I learned to sit.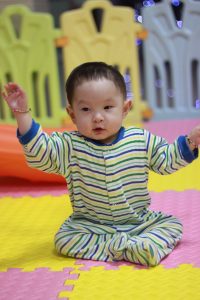 My first Christmas!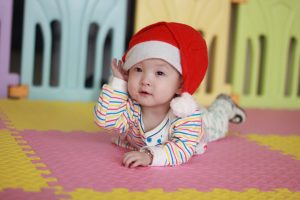 I learned to crawl.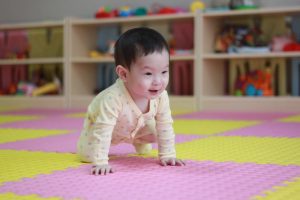 When I learned to stand by himself without support for a few minutes, all my nannies were very happy and proud!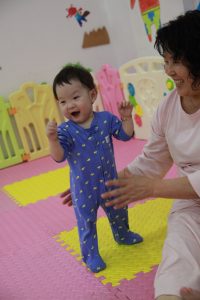 Standing by myself!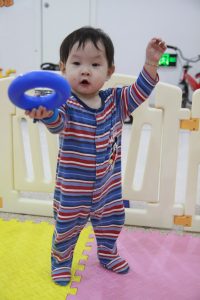 As I practiced walking more, I knew that all my nannies were around me to help me in case I fell!
How happy I was when I learned to walk!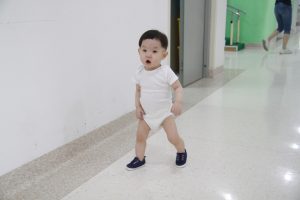 I also love to sing. Let me show you some of my favorites –  Twinkle twinkle little star,  Little donkey and Dian dou dou.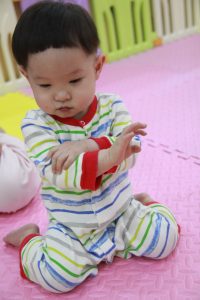 I am also a very polite boy. I say "hello" and "goodbye" to everyone!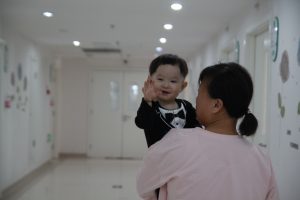 Today is May 21st, another normal day for some and a special day for me! Thank you for your support and love! When I struggled for my life, you were there! Your warm embrace encouraged me to keep fighting and growing. Today I will be leaving to go to my forever family. I have so many fond memories that I will cherish. Thank you for loving me!