This week's cooking class menu was a special summer treat…banana "popsicles"! Follow these steps for a fun afternoon together!
Step 1 – Visit some sunflowers together. Let the children touch and smell the sunflowers, leaves, and stalks.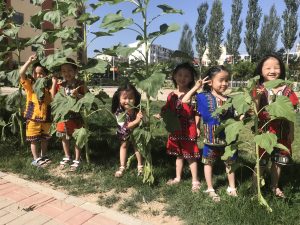 Step 2 – Return back home, wash hands, and set up space to start cooking. Give each child a bowl of sunflower seeds and show them how to open the seeds.
Step 3 – Have each child peel a banana or half a banana for the smaller kids. Then, put the banana on a popsicle stick.
Step 4: Bring out a big bowl of yogurt and have each child dip their banana. Then roll the banana dipped in yogurt in the sunflower seeds.
Step 5: Enjoy!