The advantages of being an only child are many. No matter which way you turn, the child enjoys all the toys, goodies, love and attention. This kind of happiness might seem perfect, but being an only child removes the opportunity to experience both the rivalry and love between siblings!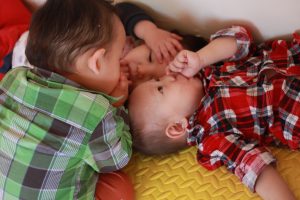 It can be easy to think children living at Dew Drops, who have been abandoned at birth due to their congenital medical issues, as being alone. But actually, we at Dew Drops believe that it is very important for the children in our care to grow up in an environment that emulates a family. Therefore, children are grouped into little homes with a primary caregiver and "siblings." They are also taught to model the love their nannies give them.
When there is love, siblings can learn to play together. When they fight, they shove and push each other! A toy can be shared by two siblings who get along and then, that same toy can be what drives two siblings upset at each other! This is very common in any household with many children. At the end of the day, the siblings learn to accept each other and forgive. The love and bonds that form between siblings is very unique. The video below highlights a regular day for these 'siblings':
The road ahead is very long. We need to learn to accept and support those that accompany us on this journey. We will always remember our brothers and sisters!