It's almost Mid-Autumn Festival (this year the holiday falls on September 21)! In addition to appreciating the bright, full moon, mooncakes are also a must to celebrate this holiday! So this week, we have been making mooncakes – it's a great activity to get everyone involved, teach about the holiday's history, and of course, finally enjoy the delicious final product together!
Step 1: Put on your apron and help your friends with their aprons!
Step 2: Learn a little bit about the history of the holiday and why mooncakes are shaped like the moon!
Step 3: Make the filling! We made sweet potato filling this year. The children love the bright purple color and enjoy making rolling the sweet potato mush into small circle shapes.
Step 4: Make the mooncake outer layer (skin) and place the sweet potato circles inside.
Step 5: Make the mooncakes!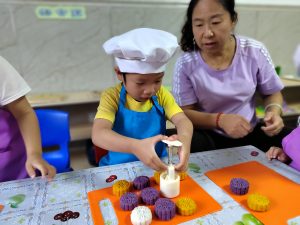 Step 6: Freeze for a few hours before eating!
Step 7: Clean up time!
Happy Mid-Autumn Festival!