June has ended and 2017 is already half over. We are always making small talk, saying how time passes too fast or the summer is too hot. It's true. Each month passes in the blink of an eye. For one group of women and the medically fragile children they take care of life is not at all like this. But how are their lives different?
Each time one of these women enters the room, the children roll over and some sit up. Their eyes light up and there is a huge smile on each of their faces. You might even say they "dance for joy."
Everything we do is possible because of the enormous effort these women exert. They spend every moment of their lives with the children, making sure that each child's needs are met. This could be feeding and changing them or just holding them in a warm embrace.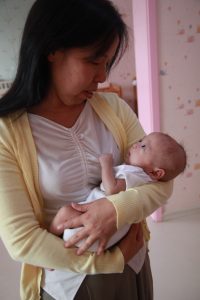 Of course, we also very much depend on the support from all of you.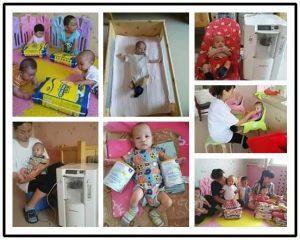 Love is a word that is easy to say, but hard to put into practice. It may seem overwhelming, but taken a day at a time these women manage to persist and we can all see the miraculous results of their work.
Xiao Xia wants to let everyone know that "love creates miracles." Don't believe it? Just wait.
Huahua says, "It's because of your love that I keep going!"
The Quanyuan – Dew Drops joint project has been running for a month now in Shanxi province. We will keep going day by day. Will you be there with us?