As a Pediatric physiotherapist from Canada, I often work with children with Cerebral Palsy.  What I first noticed about Zhong when I met him were his bright eyes, big smile, and loud voice calling me to "come here"! Despite the fact that his Cerebral Palsy affects both his arms and legs, making it very difficult for him to move independently, Zhong has developed great strategies to move on the floor through rolling and using his legs to push himself and change directions.  Though it takes a lot of effort, he can move from lying on his stomach into sitting, and can stabilize himself in this position when he is being fed by his caregiver – and Zhong loves to eat!  He tells everyone the food here is delicious!
Zhong knows a lot about his own body, and can tell us when he needs help, or when something is uncomfortable. But he also knows what he can do by himself and loves to show his independence!  He very much enjoys colouring, choosing the page and each of his colours very carefully. He accepts help to grasp the crayon, but will use it on his own and loves to show off his work asking everyone to "look"!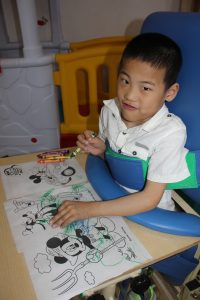 When Zhong sees the other children practicing their walking and standing, he always asks to practice too – he enjoys movement, and can become quite focused when working on supported sitting and standing.
Zhong also asks a lot of questions!  When faced with something new, he isn't afraid, but will use the opportunity to learn about what is going on around him.  He has also enjoyed learning English words from the all foreign volunteers, and has even taught me some Chinese words – which he finds quite funny!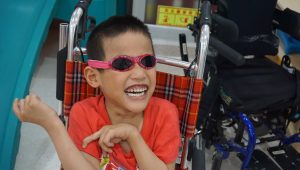 When I see Zhong, I do not see his disability, but his potential!  This is a young boy who would thrive in a school setting with accommodations for his physical needs, including good supportive seating and access to a computer so that he could participate in academic activities. Unfortunately, he will not have this opportunity in his orphanage. No one can "fix" his Cerebral Palsy, but through international adoption, Zhong could be assessed for the need for medications to help relax his muscles, and have the opportunity to try the equipment and technology to help him meet his full potential, all with the loving support of a mother and father.  We hope this special boy will find his forever family soon!