Many children will happily participate in their physical therapy when motivated by games or other fun activities, but few possess an internal drive to work hard without the external rewards.  Xuan is one such 6 six year old, with a diagnosis of cerebral palsy, who, every morning asks me first thing for "KangFu" (therapy).  She is so excited when she sees the orthotics and shoes that help her stand and walk, because she know it means she will have a chance to practice her gross motor skills.  Xuan is now working on walking with a walker, climbing stairs with the handrail, standing without any support, and moving between the floor and her walker or her walker and a chair with less help.  She wants to practice each of these skills everyday, and now she will lead her own therapy sessions telling me what to do!
She is also quite the leader here amongst the other children.  Xuan looks out for the other children around her, advocating for their needs as well as her own.  She has also been known to scold the younger children who may not be doing quite what they were supposed to!  She also loves visiting with the babies, asking to sit near them to hold their little hands or pat their backs while they fall asleep.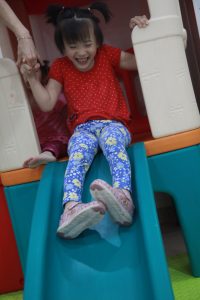 Xuan doesn't miss a thing that goes on around her – she often has the answers for questions we adults might ask about the other children! While she hasn't had the opportunity to attend school because of her physical disability, she shows great potential and has a keen interest now in literacy.  She often asks me to write out her name and the names of all the children in English, and is able to sing some of her ABC's (she is also starting to count in English). Xuan has also been a great teacher of Chinese to me – so patient, speaking slowly, and correcting me when I make mistakes, but only after she stops laughing!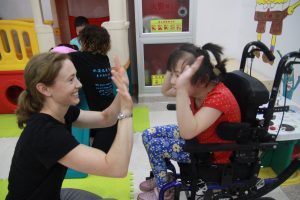 Xuan is a child here who has limitless potential, and yet will not have the opportunity to reach that potential in her orphanage because of her disability.  She would thrive in a school setting where she could participate in academic and social activities with her peers.  With her determination and drive, she will continue to develop her independence in her gross motor skills as well.  No one can "fix" her Cerebral Palsy, but through international adoption, she would have a chance to meet her full potential, all with the loving support of a mother and father.  We hope this sweet girl will find her forever family soon!