The celebration of the New Year in China is a family event. Parents, brothers, sisters, aunties, uncles, grandparents….they all come together to usher in the New Year. But for an abandoned child, these family members are unknown. They were given up for various reasons and live in an orphanage instead. But does losing one's parents mean that everything is lost? The following stories explain why not.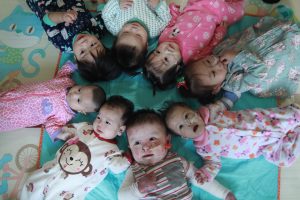 Fei Fei was born with a heart defect and intracranial hemorrhage. He was found in the mountains on a cold winter day. The doctors were worried that his hemorrhage was too serious and that even if he survived, he would have brain damage. After surgery and specialized care, this boy who had frostbite and was given up on, is now a lively, smart, caring boy full of laughter! He even takes care of his younger sisters by giving them toys when they cry!
Zhan Zhan was born with Esophageal Atresia and Tracheoesophageal Fistula. After being abandoned, he entered the orphanage and was in and out of the hospital after repeated emergency operations. We finally met him when he was just over 5 months old, but he only weighed slightly over 4 pounds (2 kgs) and was severely malnourished. After many hospital visits and treatments, Zhan has come a long way from the weak, fragile boy we first met. He recently celebrated his 2nd birthday and is walking now, loves throwing balls and is a happy little guy!
Li Li was born with esophageal atresia and a heart defect. Her birth family left a long letter detailing the child's complex medical needs and their helplessness. After a 12 hour travel day, we were able to bring Li to Beijing from her orphanage for emergency surgery. After a hard post-op period, she went back to the hospital for heart repair surgery. Today, Li is showing us the power of life. Just before the Spring Festival, she started to drink milk orally and is slowly weaning of her feeding tube. Way to go Li!
Cheng Cheng was born with anal atresia and low birth weight (2.1 kgs). He was abandoned at a "baby hatch". We rushed him to Beijing on a 13 hour train for his chance at hope and life. Emergency surgery went smoothly and he started his road to heal. Today, he is a lively, healthy, loving boy who gets up to all kinds of mischief!
Lian Lian was born prematurely and with a hiatal hernia. After two operations, a G-tube was placed to ensure she was still receiving nutrients. When you held her, her little body seemed like it was weightless. Today, Lian no longer has a G-tube, she just took her first steps and she enjoys giving her nannies a kiss!
These children are just a few examples of children who are without their biological parents, but they are not alone in this world. They have love and warmth in their lives because of you. Their courage to fight for their life is unfailing. Their lives have changed course because of you. Their life is an example of the power of love. Laughter, warmth, hugs. These is the new normal for these children every day because of love.
In China it's said that on average in one life you will meet over 80,000 people. So we each have the possibility to impact 80,000 people! Join us in making change! One child at a time! Sign up to sponsor a child monthly for $30 and have a direct impact on a child – https://www.dewdropslittleflower.org/get-involved/sponsor-a-child/