In life we are sometimes given an opportunity that can completely affect our future. For 6 year old Xuan, who was diagnosed with cerebral palsy, this occurred through the meeting of a Canadian physical therapist (Claire) volunteering at Dew Drops Little Flower. Due to her medical condition, Xuan's mobility is limited. However, with her recent therapy sessions, she is learning to stand and ambulate with assistance. This unforeseen opportunity has brought out Xuan's own internal determination and now her future might look very different to what she imagined.
With support at her legs, Xuan practices standing.
With less support, she is still able to stand.
Claire: Xuan, today can we challenge ourselves? Let's try to stand with me supporting you with just one hand, is that okay?
Xuan: Yes!
Claire: Are you ready?
 Claire: Great job! Let's try again. Are you ready?
Xuan: Yes, I am!
Claire: Don't worry. I am behind you.
Xuan: Okay
 Claire: One more time, okay?
Xuan: Yes!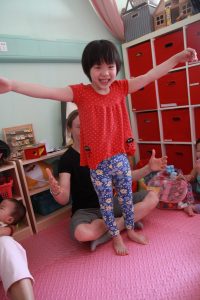 Isn't this an example of an unforeseen opportunity that is now completely changing Xuan's life?
This encounter has triggered Xuan's own motivation and determination. We no longer see the shy girl that first came to our program. Although, Xuan still has a long way to go, we are hopeful by the progress she has already made. Her motivation will help her continue to press forward and work hard. Keep going, Xuan! Let this unforeseen opportunity help you continue to progress!